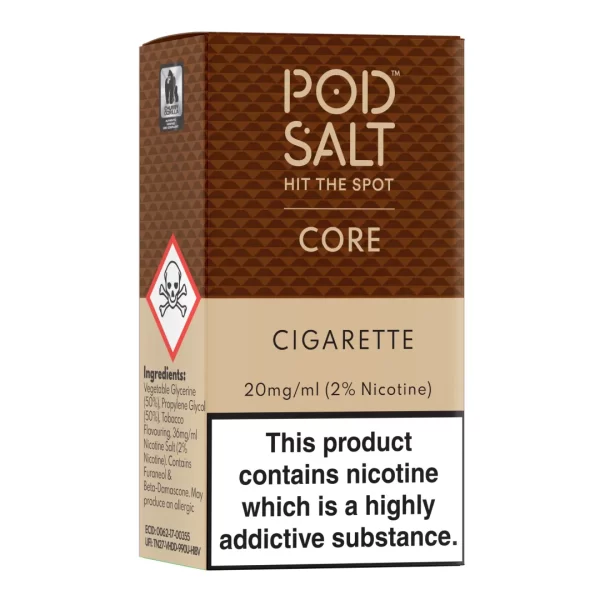 POD SALT CIGARETTE 10ML NICOTINE SALT E-LIQUID
£3.98
We provide one of the most authentic cigarette tobacco flavours available, perfect for those who struggle to quit smoking and love the warm, robust tastes of tobacco. Full-bodied, warm and smooth. Blended with our award-winning Nicotine Salts formula.
• Flavour profile: Tobacco
• Bottle size: 10ml
• Nicotine Strength: 11mg / 20mg
• Nicotine type: Nicotine Salts
• Ratio: 50VG/50PG
• Made in the UK
• TPD Compliant
For the best Pod Salt experience, we recommend MTL style vaping, and any low-wattage device using 10-20 watts with medium to tight draw, 0.8-1.2ohm resistance.
Description
Brand
Additional information
Description
Pod Salt's advanced Nicotine Salt formula is designed to provide an exceptionally smooth vaping experience at high nicotine strengths. Salts represent an evolutionary step in quality from standard freebase nicotine, offering vapers enhanced nicotine delivery and greater satisfaction. Our formula is engineered for low vapour production, bringing an element of stealth and discretion to your vaping.
Nicotine Salts are found naturally in tobacco leaves and consist of nicotine and salicylate, which we then extract to produce our E-liquids. Salicylate lowers the pH of nicotine, reducing irritation on the throat and providing enhanced nicotine delivery.
Brand
POD SALT
Additional information
| | |
| --- | --- |
| STRENGTH | 10mg/ml, 20mg/ml |