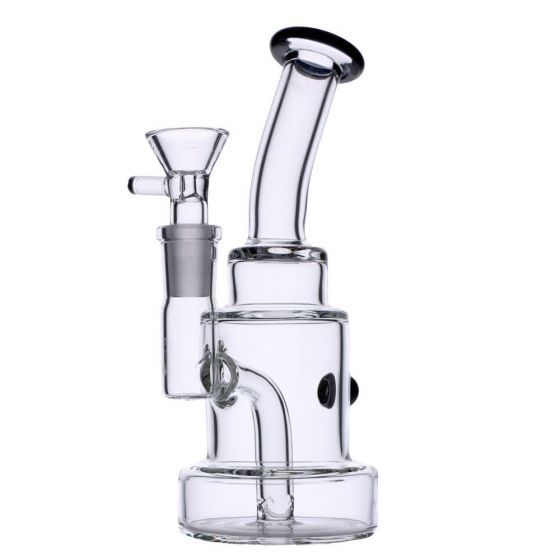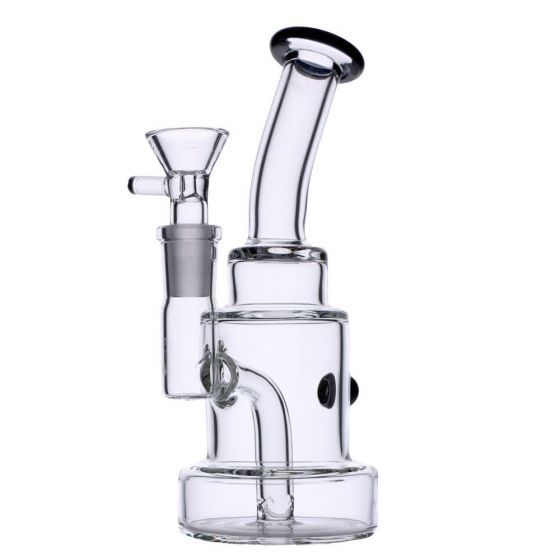 Glass Bubbler with Bent Neck | 5.5 inch
£37.79
Description
Description
Glass Bubbler with Bent Neck | 5.5 inch
This affordable dry herb bubbler looks great and is decorated with colored glass accents on its rimmed mouthpiece and its grip marble. The elegant bubbler stands on a stable base and features a bent neck design. The 14 cm / 5.5-inch tall bubbler is made from top-quality clear glass and is equipped with a fixed downstem and a 14.5mm female joint. The included 14.5mm male herb bowl comes with a pinched neck design to prevent unwanted ash from traveling into the bubbler.
As you inhale the smokey hit gets pulled through the submerged, fixed downstem for important cleaning and filtration before exiting through the mouthpiece. This produces a cooler, more filtered hit that's packed full of flavor and less harsh on the throat. The bubbler fits perfectly in the palm of your hand, and the angled neck enables you to smoke in a more relaxed position.
This simple and effective bubbler makes a great gift and is available in a selection of colored accents: Black or Pink. Please select the color of choice from the available option in the drop-down menu when placing your order. This glass bubbler will last for years if maintained correctly and is ideal for daily use. Order your very own Glass Bubbler with Bent Neck today for an unbeatable price at Grasscity, the number one stop for all your smoking needs.