Description
Brand
Additional information
Description
GEEKVAPE GEEK BAR SHISHA DISPOSABLE KIT – FROM £4
The Geekvape Geek Bar Disposable Kit is small, portable and convenient, featuring a built-in 500 mAh battery and pre-filled with 2 ml of e-liquid, in various nicotine strengths.
This disposable vape kit works best with mouth to lung vaping, and will provide up to 575 puffs, which is equivalent to roughly 48 cigarettes.
Please note: Puff counts are approximate and dependent on the length of draws on each use. Significantly lower puff counts can be found if longer draws are taken.
Product Highlights
500mAh high voltage battery.
Pre-filled with 1% or 2% (10mg or 20mg) nic salt vape juice for a smooth, satisfying taste.
An enjoyable throat hit.
Compact, portable and stylish design.
5 delicious flavours to choose from, all with a very subtle tobacco undertone.
Geek Bar Shisha Flavours
Hawaii Sunshine
Mix Fruit & Rose
Pineapple Guava
Strawberry Kiwi
Watermelon Berries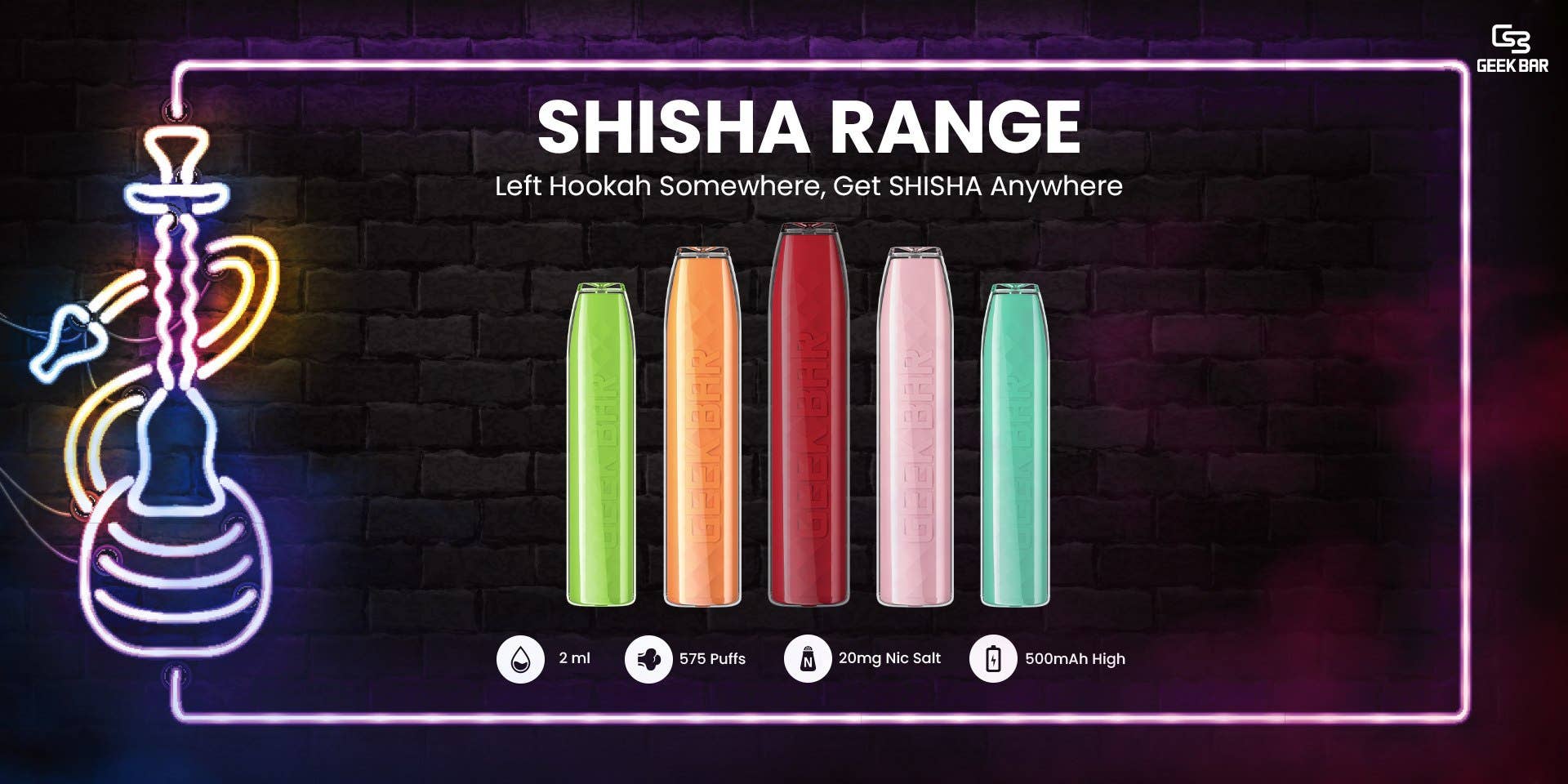 Geek Bar Specifications
| | |
| --- | --- |
| Product name: | Geek Bar Shisha Disposable Pod Kit |
| Size: | 23.2 x 14.3 x 105 mm |
| Battery Capacity: | 500 mAh |
| Pod: | Pre-filled with 2% Nic Salt E-Liquid |
| Max output power: | 9W |
| Resistance range: | 1.4 ohm — 1.5 ohm |
| Puffs: | Approximately 575 |
Kit Contents
1 x Geek Bar Disposable Pod Kit.
Questions and Answers
How many puffs are in a Geek Bar?
Each Geek Bar device can provide up to 575 puffs.
How long do Geek Bars last?
Each Geek Bar provides a vaping time similar to 48 cigarettes.
What is in a Geek Bar?
One Geek Bar is pre-filled with 10mg or 20mg (2%) nicotine salt e-liquid. The device also contains a 500 mAh battery, which is designed to last long enough for the nic salt vape juice to be vaped.
Is a Geek Bar right for me?
Disposables definitely have their benefits, but they also have their drawbacks. In the interest of balance, we have outlined the pros and cons in our disposables guide to allow you to make an informed decision.
Useful Reading
Read our guide on nicotine salts.
Read our guide to disposable vapes.
Brand
GEEK BAR
Additional information
| | |
| --- | --- |
| Select your strength below | 20mg |
| Select your flavour(s) below | Blue Razz Lemonade, Blueberry Bubblegum, Blueberry Cotton Candy, Blueberry Sour Raspberry, Energy Ice, GRAPE, Green Mango, Guava Ice, Gummy Bear, Kiwi Passion, Lemon Tart, Lychee Ice, Mango Ice, Menthol, Passion Fruit, Peach Ice, Pink Lemonade, Shisha Mixed Fruit & Rose, Shisha Pineapple Guava, Shisha Strawberry Kiwi, Sour Apple, Strawberry Ice Cream, Sweet Strawberry, Tobacco |